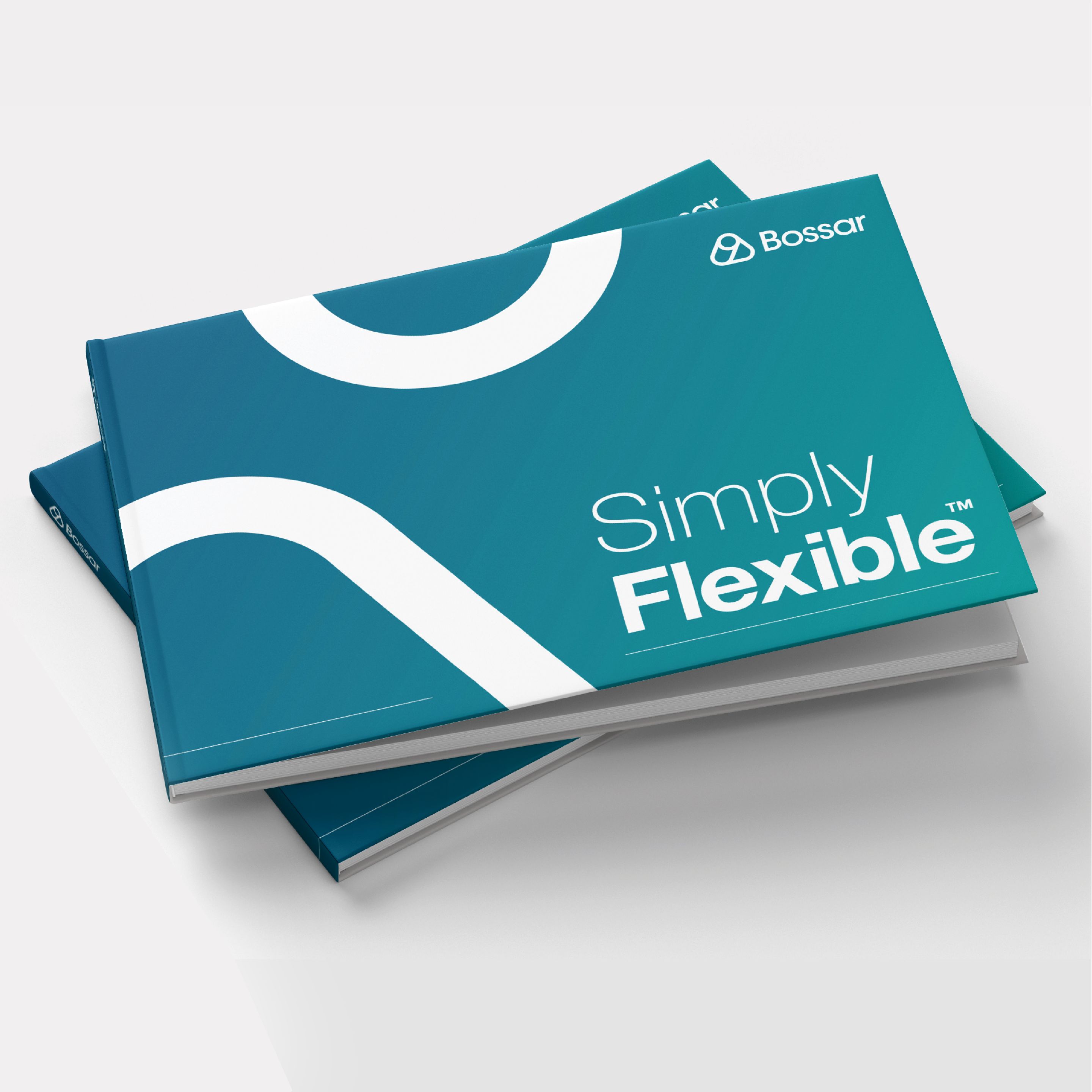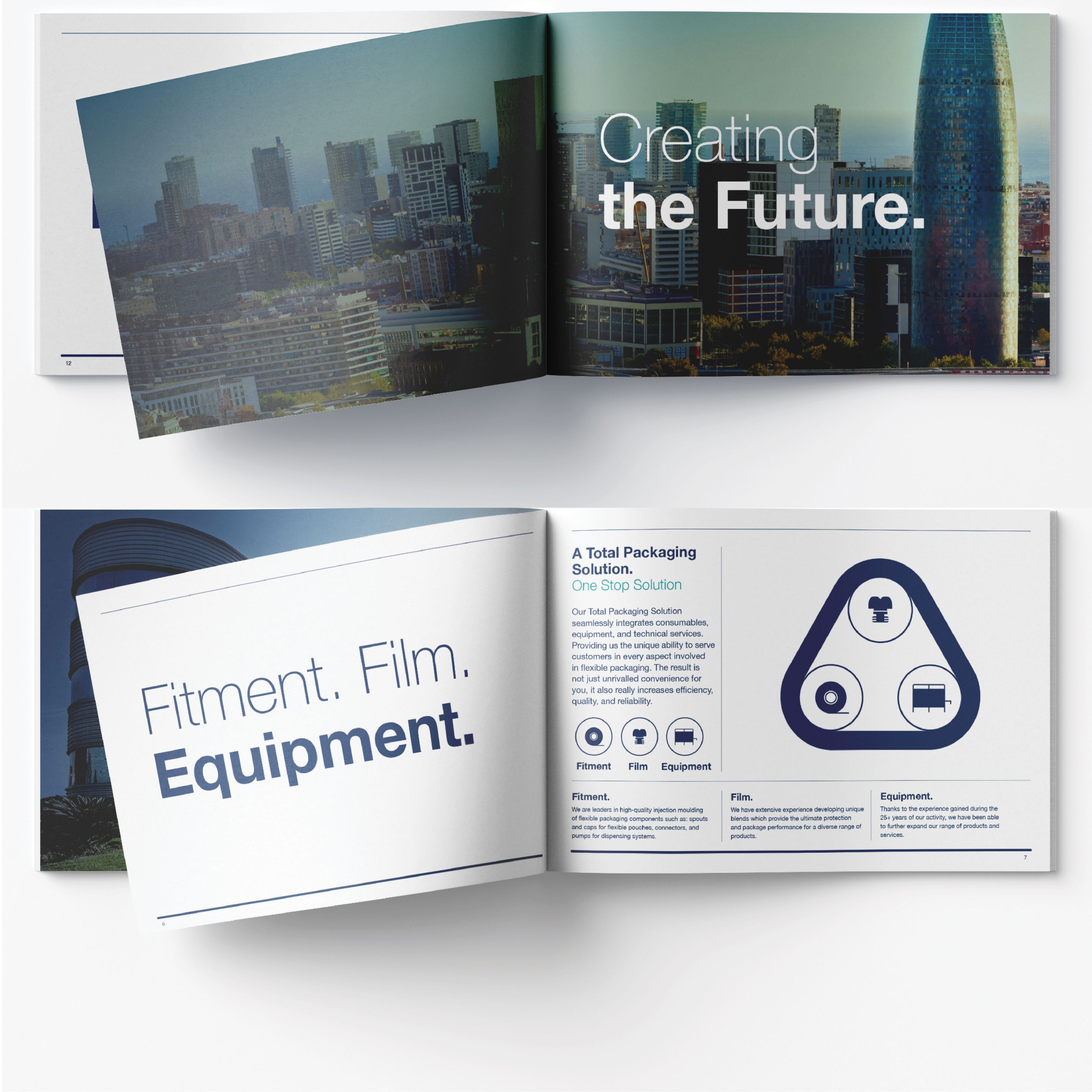 Bossar Catalog
The catalogue for Bossar Packaging S.A. shows the Total Packaging Solution and the complete portfolio of packaging machines as part of the global brand refresh for Scholle IPN and Bossar Packaging S.A.
Together with Kim Mannes Abbott we refreshed the global branding for Scholle IPN and Bossar Packaging S.A. We designed a brand new logo, developed a visual language and storytelling clarifying the proposition and complex innovation, focusing on sustainability and the competitiveness of flexible packaging.
About Bossar & Scholle IPN
Bossar
Bossar is a global leader in design and production of horizontal form-fill-seal equipment for the manufacture of spouted pouches, zippered pouches, and sachets.
Bossar has been at the forefront of pouch packaging equipment technologies and an invaluable resource for our customers as they create innovative new flexible packaging.
Scholle IPN
Scholle IPN is a leading innovator of sustainable packaging systems and solutions for food and beverages, with retail, institutional and industrial customers. It is the global leader in bag-in-box and number two in spouted pouches.
Total Packaging Solution
Scholle IPN and Bossar's mission is simple; to help the world's leading brands deliver their products in the best way possible using a diverse range of total flexible packaging solutions. We are tenacious innovators with a long history of applying technology in film, fitments, and equipment to solve difficult packaging problems. Our products are manufactured everywhere so we can serve anywhere with a flexible, "can-do" attitude. We believe we are a critical partner to creating and maintaining a sustainable future and do things differently to meet these important goals.
After the rebrand Sholle IPN was aquired by SIG
SIG is a leading provider of packaging solutions for a more sustainable world. They work in partnership with our customers to bring food and beverage products to consumers around the world in a safe, sustainable and affordable way.
There is a strategic fit in terms of portfolio, geographies, categories, and technologies. The combined group will be using the joint know-how to grow and innovate faster, while advancing its leadership in sustainable packaging systems. With this acquisition, SIG will be able to offer the most sustainable low-carbon packaging solutions across a wide range of categories and product sizes.
Project Information
Client
Kim Mannes-Abbott for Bossar Packaging S.A.
Type
Concept & Design
Design team
Kim Mannes-Abbott, Willie van Burgsteden
wakuli-brand-identity
hart-van-noord
basetide-recruitment-communication
scholle-ipn-and-bossar-brand-identity
bossar-catalog
travel-hamburg
interactive-maps-of-urban-developments-in-amsterdam
iconic-houses-brand-identity
iconic-houses-book
iconic-houses-at-risk
iconic-houses-conferences
buiksloterham-en-co
id-signature-website
book-paris
vova-werving
urban-signature-online-magazine
toeristic-folders-amsterdam
book-brooklyn
folder-stationsgebied-en-oosterdokeiland
histor-kleurkompas
book-valencia
timmeren-aan-het-hamerkwartier
participatie-duurzaamheid-amsterdam-noord